Hello, Bonjour, Guten Tag, Shalom, Konnichiwa, Szia, Ciao, Hola, Szia, Shalom,
You're here
to fall in love with life and yourself, to play with the world, to explore new possibilites, to light up the world
I am so incredibly honored you are here. Both here at Play With the World and also here on the planet.
Yes, you are special and you matter. I didn't always believe that about myself. I spent years at war with myself and the world. I felt unworthy and unlovable. Life was an uphill battle.
…the world tells you that you need to be something, look a certain way, act in a specific manner, and fit into the box. If you play by the "rules," maybe you will find happiness … just maybe. But in living this way, our fulfillment is always just outside of our reach. We feel off track, and we secretly think things like, "Is life really supposed to be this hard? Does anything I really do matter? What is the point anyway? Why am I so misunderstood and lonely?" These are all the side effects of trying to fit in the box.
I am not a fit-into-a-box kind of girl, and chances are, you aren't either.
I tried it—for almost three decades I played by the world's rules, checking off the boxes, and it led to clinical depression, eating disorders, extreme anxiety, overwhelming fear, and corporate burnout. It led me to rock bottom. But it was in my deepest depths that I found the light. I learned how to find joy through my pain. My inner voice said,
And in following this guidance, my life transformed forever.
Best-selling author, entrepreneur, writer, teacher, life coach, business and author mentor, and an international speaker. But we are not just our job titles. Life is more layered than what we do. With that said, I am a seeker, a dreamer, doer, creator, writer, lover, world traveler, dog fanatic, adventurer, curious student of life, internal optimist, and a believer in possibilities and making life the best we can for ourselves and those we care about.
no matter what I do, I am dedicated to helping us live our highest potential. That's right, "us." Everything I teach, share, and create I am living myself. I teach and live through example, and I am committed to love. Whether this means falling more in love with yourself, your job, you partner, your life, or your own dreams,
love is the fastest way to fullfillment.
If you are looking for more meaning and want to understand yourself and life more, you've come to the right place. Playwiththeworld.com is more than a website and more than my company and brand. It is a manifesto and way of being inthe world. It is a declaration of empowerment
By landing here and playing with the world you are saying you want more out of your life.
You believe in the potential of possibilities and you are ready to raise your standards and go after what you really want. My tools, books, guidance, videos, blog and content are designed to help you do just that.
My website has been named one of the Top 75 Personal Growth Websites and Top 100 Self-Help Blogs on the Internet by the Institute for the Psychology of Eating.
I started this website to bring hope and happiness to people feeling stuck, and it quickly turned into a multilayered experience dedicated to support you in living more fully, passionately, and creatively. Your inspired life awaits.
Everything that I do is for you, to help you remove the blocks in your life that are keeping you from bliss. I know what it's like to feel hopeless and depressed. But I also know that it gets way better, and I have the tools to help you find fulfillment.
I share my experiences, reflections, and insights through articles, online courses, videos, meditations, international coaching (personal and group), speaking, retreats, and best-selling books. No matter the method, my message is all about how to find and keep lasting fulfillment, and this comes faster when we learn how to be our own friend and trust and believe in ourselves.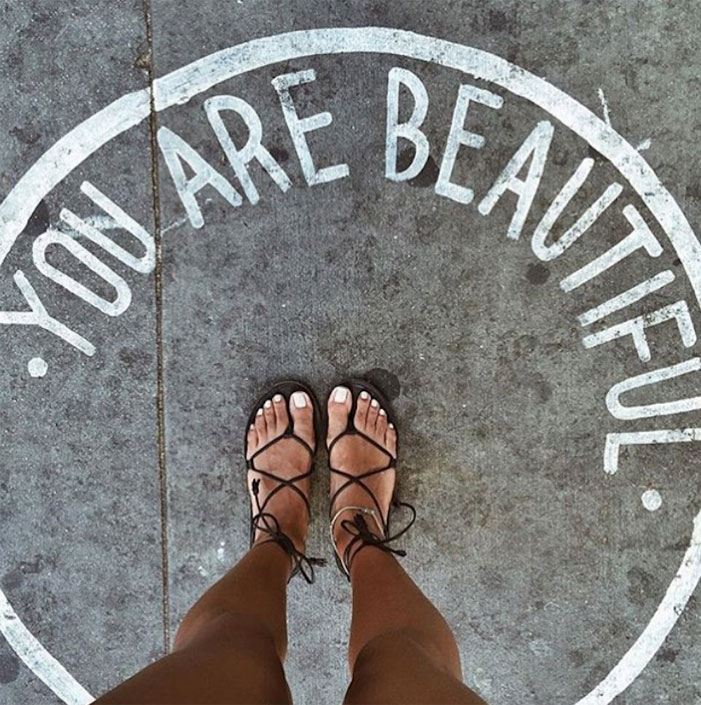 Photo @Ihavethisthingwithfloors
If you haven't noticed, I am an adventurous girl who craves new experiences. This makes my message positively fun. I bring my love for life into all of my messages, and share openly and honestly from my heart.
Thank you for being here and playing with the world.
I'd love to meet you!
The best way to stay connected is to make sure you become a Play With the World Life Adventure Buddy. You'll get weekly inspiration to live your ideal life—just enter your name and email here.
I also love to be social. To connect with me are on social media where I share positive messages daily join along for the adventures here Facebook, Twitter, and Instagram. 
If You're Ready to dive deeper into lasting joy and transformation, These links will get ya there